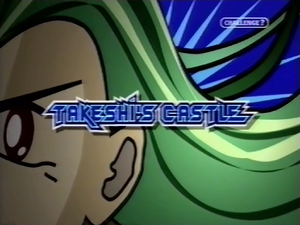 Takeshi's Castle was first introduced to British audiences in the late 1990s, when it was featured semi-regularly as part of Tarrant on TV, in which broadcaster Chris Tarrant showcased a variety of unusual television programmes from around the world. It later become more well-known when a condensed version of the original series proved an unexpected hit when it premiered on Challenge on 9 November 2002, regularly dominating the top ten programmes on the channel each week. </span>
The UK format does not follow the original Japanese format, instead presenting each sequence of games as comic martial challenges leading to the final game wherein contestants not so far eliminated try to storm Takeshi's Castle. Each episode is narrated by Craig Charles. A typical episode of the UK format of Takeshi's Castle has about eight games, followed by the Final Showdown. After each event, a 'Ridiculous Replay' is shown, highlighting the most entertaining attempt. Challenge decided to edit out the comedy sketches between Takeshi and Higashi to allow more (or fewer) games to be shown during the half-hour block.
More series were commissioned and shown over the next few months, culminating in a series of hour long specials in the Autumn of 2003, and a special highlights show, The A-Z of Takeshi's Castle, broadcast on January 1, 2004 which showed some of the best clips of the best games as the last original series finale. Repeats still air regularly to this day on Challenge, with an average of 130,000 viewers an episode. On 3 September 2005, MXC aired for the first time in the UK on Challenge
On 9 May 2007, The Paul O'Grady Show had their own mini Takeshi's Castle challenge, including 'Knock Knock', 'Bite the Bun', a "Bridge Ball" adaptation called 'Balancing Act' and the 'Slippery Wall'.
The UK TV series returned to Challenge after a hiatus on September 7, 2009, with a modified opening sequence (to fit with Flextech rebranding to Virgin Media Television).
Takeshi's Castle Rebooted
Edit
Takeshi's Castle Thailand
Edit