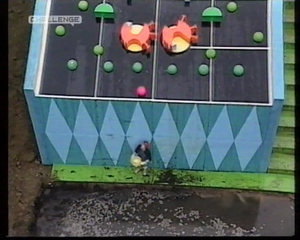 To start the game, the contestant has to hit a ball into the top of a giant pachinko machine. As soon as they've hit the ball they must pick up a bowl and run down the stairs.
Now the contestant has to wait for the ball to fall out of the bottom of the machine, and then can catch it in their bowl. As they can't see where the ball is getting knocked around too, Tani shouts out directions ("left" or "right") to help guide the contestant the right way.
In front of the machine is a mud pit, so to try and catch the ball the contestant has to jump into it. If they catch the ball they've won the game, but if they miss it they lose.
In the family special version of the game, the children hit the ball into the machine and stay up the top to shout directions while the parents run down the stairs to try and catch the ball.